When I was a kid, my brothers and I were only allowed one console in the house. Since we had grown up on Game Boy and Game Boy Advance, that console was always a Nintendo gaming console. The Gamecube and Wii both had games we could all play together so it was the reason my parents bought them. When I entered high school and everybody had an Xbox 360 or PlayStation 3, I finally decided enough was enough, I was getting an Xbox 360.
After being turned down by my parents, I decided to save up enough cash for that sleek, slim version. This was back in July 2010, so the Xbox 360 had been around for about five years at that point. I had access to a backlog of so many games, it was overwhelming. However, the first game that I inserted into that shiny black console was a game that was barely two months old at the time. That game was Red Dead Redemption.
Now my absolute favorite game of all time, Red Dead Redemption was a turning point in my life on so many levels. It was the first Mature-rated game I owned, the first complex game I played, the most engrossing game I played, and most importantly, it was the start of gaming outside my comfort zone.
Since then, I have made it a goal of mine to play at least one game a year that I normally wouldn't, and more often than not, it has led me to some pretty incredible places.
One notable jump I made was into the Souls series. This was a series that had me scared for a long while because of its seemingly insurmountable difficulty. The internet was ablaze with "Git Gud" memes and horror stories about losing thousands of souls to just one dumb enemy. I had even attempted to play the original Dark Souls and only lasted about five minutes before I turned the game off. The second the Asylum Demon jumped on me mere minutes into the game, I instantly said, "Nope," and cut the power.
Then in March 2015, something happened. Bloodborne released, and having very little games to play on my new PlayStation 4, I bought it. I knew that this was going to be a hardcore game unlike anything I had ever played, I remembered my first time playing Dark Souls, and I still, with much reluctance, picked the game up. Now, three years later, I regret none of it. While the combat had me going crazy for the first few hours, the atmosphere of the world quickly had me enamored and hungry for more. Once I had control of the combat, everything clicked, and the controller was impossible to put down. Bloodborne instantly became one of my favorite games of all time and if I had never taken that plunge, I would have missed out on something truly special.
Just recently I started playing Persona 5. I am not a big anime guy, so I had reservations about the game. Would it be too Japanese to my liking? I knew the game was, at minimum, a 100-hour plus adventure. Would a game about a bunch of kids in high school be able to keep my attention for that long?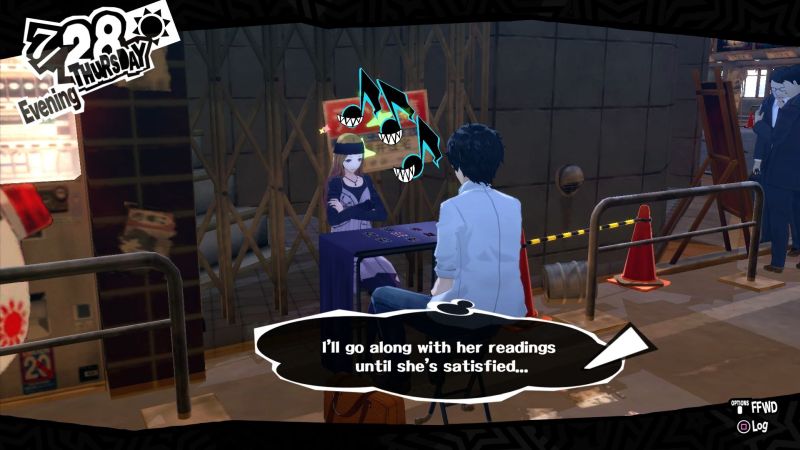 Two hours in, and I was instantly hooked, not just by the charming characters and heartfelt story, but by the game's role-playing mechanics. There is so much to see and do in Persona 5, and everything seemingly feeds into every other aspect of the game. At this point in time I'm just over 50 hours in, and am not even close to being bored. The game is easily one of my favorites of last year and maybe even of all time. I didn't know what the hell I was getting into with this game, but I'm incredibly relieved to have taken the chance. I don't want to live a life not knowing what it's like going to see a movie with Ryuji, or going to museums with Yusuke, listening to him go on about art I don't care about, but knowing it'll raise my friendship rank with him.
Have I taken chances on games that didn't turn out as well as I had hoped? Sure, there have been a few. The Yakuza series is one example of games I don't especially love, but I appreciate anyway. Not every new type of game I play is going to make my favorite of all time. However, do I regret taking a chance on a game? Never.
Gaming away from some of your familiar franchises can give you perspective and appreciation not just for different kinds of stories but also types of game systems. You may think you're not a puzzle game fan, but perhaps you just needed to play The Witness to realize you just might be. You won't know unless you try.
There are some gamers who enjoy playing only Destiny or Fortnite or PUBG day-in and day-out to their heart's content and that is absolutely up to them. Those are fun and competitive games that are great at keeping players engaged for months on end. But if you're someone, like me, who is always looking to broaden their horizons, don't hesitate to plunge headfirst into uncharted waters. You may just be surprised what kinds of games rank in your all-time favorites.
I have a friend who refused to play the new Wolfenstein games, even though he is an FPS fan. For years, my friends and I bugged him about it until he finally gave in and played them. Guess what? He loves the series now. It happens that easily. So play outside that comfort zone. Grab that game you're on the fence about. Take a chance.