It's pretty apparent among the gaming space that one of the best ways to succeed is in accessibility. Being accessible to not only those with disabilities but to people of all types can go a long way. Among Us is a great example of that very idea, with its similarities to board games like Clue and free mobile model drawing in half a million each month. There are plenty of other great examples out there, one such example being The Sims and, importantly for this piece, The Sims 4. It's a series that's garnered a diverse player base, including those who wouldn't traditionally play games. This is a good thing, but unfortunately, this golden goose is in the hands of quite possibly the worst gaming company in history. You and I both know who I'm talking about.
The Background
EA has, for many years now, perverted the idea behind microtransactions for the player bases of their games. Everything from loot boxes in Star Wars Battlefront II to literal gambling machines in their sports titles has received well-deserved criticism. They've even gone to the point of garnering attention from governments around the world, looking to prevent gambling addiction in children. That's an accomplishment in and of itself, albeit without a sense of pride and accomplishment. You get it, they're a terrible company that's proven time and time again that they're terrible. In the case of The Sims 4, they've done some pretty nasty stuff for the past six years as far as paid DLC goes. The scariest part of all? Very few have stood up to their practices.
To the community's credit though, it isn't their fault. Like I mentioned before, a significant portion of The Sims 4 player base wouldn't traditionally play video games if it weren't for The Sims' existence. At the same time though, that gives EA absolutely no right to abuse their player's ignorance for a quick buck. It's completely unfair and unethical, something no one should have to even give the time of day. For those of you who aren't aware of exactly what EA is pulling here, you may be asking "just what could they be doing to a game like The Sims 4?" The answer to that is just what you'd expect out of EA.
The Sims 4's Cut Content For a Quick Buck
That being half-baked, overpriced content that in some cases shouldn't even warrant a price tag. I think the best example of this is in The Sims 4: Seasons expansion which released for players a few years back. As the expansion's name implies, it brings in seasons, dynamic weather, holidays, a calendar, and some other objects and careers for your sims. That all sounds like good fun right? Well, you can get it yourself, at the low low price of $49.99.
It's this type of content that runs rampant in The Sims 4's business model and is nothing short of unacceptable. Really? Content that should be in the base game for the price of a few solid indie titles? That's the extent EA is willing to go. If this kind of thing were done in any other game, it would be immediately met with mass outrage and backlash. Yet, due to the ignorance of many of the players, they assume it's just normal for games like this and spend away. Even those who see through the joke that is $50 for weather are left simply not buying it rather than standing against them.
But that's merely one example of what they're pulling. Also priced at a lovely $50 is the Cats & Dogs expansion pack for The Sims 4. I bet you can't possibly guess what's in this pack. Jokes aside, this one adds a new world, vet clinics, similar new objects, and the aforementioned cats and dogs. To their credit, this definitely isn't as bad as the Seasons expansion. At the very least, there's some content to take interest in such as the new world including 16 lots. Still,  Cats & Dogs feels once again feels like cut content from the base game being reused to make a quick buck. Quite frankly, this is something that would much more reasonably be priced at around $20 if that. When it comes to EA though, that wouldn't pay for the executives' new swimming pools and sports cars.
It Gets Worse, Much Worse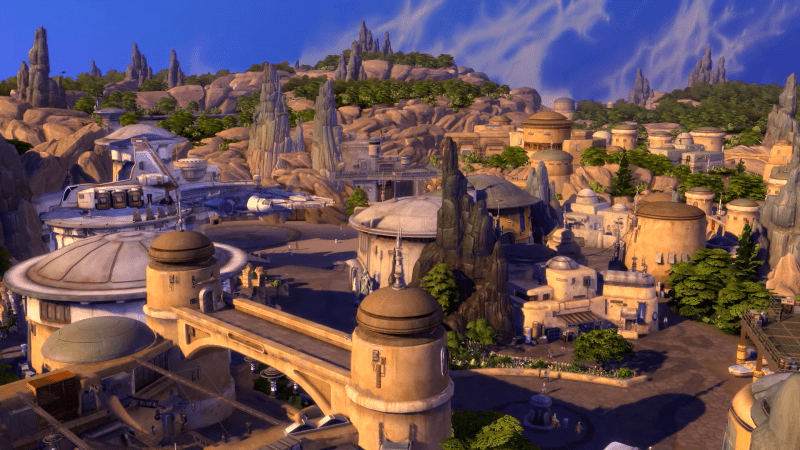 Expansions aren't exclusive when it comes to the game's terrible business model either. Some of the Game Packs (the game's $20 DLC packs) are pretty poorly handled as well. If you're a Sims 4 player, you've most recently noticed the joke that is The Sims 4 Star Wars: Journey to Batuu. One look at the Steam reviews should spell it out for you. The new location is the most half-baked piece of trash the game has seen yet, with many of the features and "attractions" being nothing more than something you do once and forget. As one review points out, even the black lightsaber crystal turns your lightsaber red. They couldn't even something that simple correct.
Now I would keep going with many of the different packs, but I won't bore you with reiterating the same point. What is worth knowing though is the absolutely absurd price to get all of this content. If you were to buy everything, you'd need to pay $700-800 not including the base game. Just to visualize that, you could buy a fairly solid gaming rig for that price. No game, especially one like The Sims 4, should require anywhere near that much cash just to feel like you have a complete experience. And before the few of you say "but some of that wouldn't belong in the base game!", those being out would only remove a fraction of the price tag realistically.
The Bottom Line of The Sims 4
I know I've been incredibly negative throughout this whole thing (and that's mostly because EA deserves it), but I should note that I don't want to tell you the game you enjoy is bad. If you're a Sims 4 player who loves the game, that's awesome! Keep on enjoying the game that you love to play. I'm simply making this because we need to do a better job taking a stand against its terrible business model. If we don't, I fear it'll only get worse from here.
EA's proven time and time again that ethics don't take precedent over economics, so don't put it past them.