Video game music holds a special place in my heart.  I have faced many occasions in my life where things were less than optimal, to say the least.  Music has always had the ability to bring me back to a good place.  I have vivid memories of having a rough day at work, strapping on my running shoes and going running through a trail during the evening.  Picture if you can fireflies dancing around the night sky, flowers rustling against the wind, and deer running across my path.  Yes, I was fortunate enough to spend a couple of years in a city that had such a trail.  However, all of those various landscapes could not have brought me inner peace without some help.  That help came in the form of music.  In this case, I could only play Peace of Akatosh during my trail run.
If you take a second to listen to these songs, I do not need to explain how music can center someone's mind.  So without further ado, here are three songs that I have found extremely peaceful to listen to:
Peace of Akataosh- Elder Scrolls IV Oblivion
I don't need to go into much more detail why this song tops my list of best songs to balance your head.  Jeremy Soule composed this song with simplicity in mind.  The tempo does not pick up or slow down, the song maintains the same flow throughout.  Peace of Akatosh is indescribably peaceful.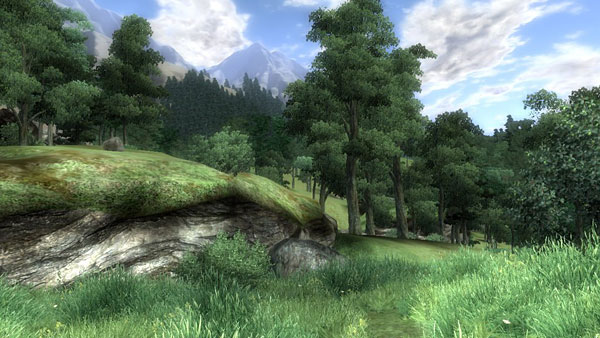 Kings Bounty- Valley of a Thousand Rivers
King's Bounty for the PC is one of the more underrated strategy games on the market.  For those of you that enjoyed the Heroes of Might and Magic series, King's Bounty will be a welcome addition.  The game plays very similar to HOMM, but scraps the turn-based style on the world map for continuous play.
I chose Valley of a Thousand Rivers for two main reasons:  first, the song's melody is wonderful.  Similar to Peace of Akatosh, I can always place myself in a green forest with flowing streams running through the ground.  Second, I have a personal reason vested with Valley of a Thousand Rivers.  After showing up to a job interview, I realized I was a half an hour early.  My heart was racing a thousand miles an hour.  I sat in my car and tried anything to calm down.  Fortunately for me, I had Valley of a Thousand Rivers on Spotify.  The song ran on my car audio over and over again until the interview, and I found myself calm and collected.  I ended up landing the job, and I can thank this song for getting me mentally calm.
Final Fantasy XII- Sorrow (Imperial Version)
While Sorrow is more of a melancholy song, there is inherent pride behind it.  After defeating Judge Gabranth, this song will be played non-stop until you step foot on the elevator to being the final sequences of the game.  The song balances the sadness of the battle with the respect that reforms between brothers.  Sorrow is beautifully written.