I'll be perfectly honest; I don't really know that much about the Maze Runner franchise. But if there's one thing it does prove, it's that there is a specific formula for writing a successful Young Adult series. You take teen protagonists who, we are constantly reminded, are special. They have to band together to save a world ruined by evil adults. Throw in an optional token love interest and you're good to go. To be honest, with series like The Hunger Games and Divergent out there, I sort of assumed that the YA market would be full to bursting at this point.
Apparently not, as the Maze Runner series is going strong. The second trailer for the next movie, 'The Scorch Trials' is now out;
[gap height="15″]
So at the end of the previous Maze Runner film, Thomas and his buddies escaped the titular maze and found that the outside world is in dire straits due to a virus ravaging the world that Thomas and co are immune to. The maze was a trial to try and find out why they were immune (and how to replicate it).
[gap height="15″]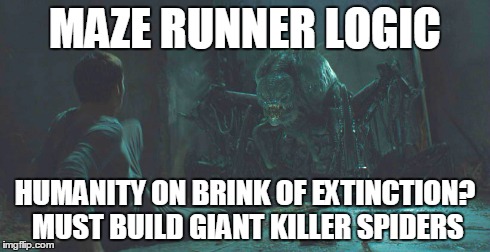 As you can see from the trailer, Thomas quickly deduces that the organisation behind this (WICKED) is up to something not nice. So they decide to escape and head  into the outside world to find the answers that they're looking for. And while I suppose having WICKED be trustworthy would make a boring film, rushing of into a wasteland without all the info doesn't seem all that smart. It must be a Maze Runner thing.
'Maze Runner: The Scorch Trials', taken once again from James Dashner's book series, has Wes Ball back directing and Nathalie Emmanuel, Aidan Gillen, Giancarlo Esposito, Lili Taylor and Patricia Clarkson among the cast.