As the dog days of summer come to a close, its time to look forward to what we'll be playing for the remainder of 2018. With a packed September and October on the horizon, gamers will have no shortage of amazing experiences to sink their teeth into. The following are the top games that are sure to be insane hits this upcoming fall and may even be contenders come awards time in December.
10. Super Mario Party
Release Date: October 5
Let's be honest, your first reaction is probably, "What? Why is this on here?" Well, hear me out. Nintendo's Mario Party series has seen some highs (and plenty of lows) in the last decade starting with Wii's Mario Party 8. Since then, Nintendo has tried to drastically shake up the formula in both Mario Party 9 and 10 by allowing players to ride along a straight path in the same vehicle with their opponents. No longer did players race to star spots to buy a star for 20 coins like in previous games, instead they collected mini-stars to be tallied up by the end. The games were decent and had entertaining mini-games but they failed to garner the same competitive spirit as some of the earlier entries in the series. Super Mario Party looks to bring the party back to its roots with players once again rushing to star spaces to purchase stars. Even in the title, it looks like Nintendo is really trying to do some kind of soft reboot of the franchise and that can only mean good things. Hopefully, the title becomes a go-to multiplayer game for the Switch.
9. Hitman 2
Release Date: November 13
After WB Games bought the franchise when Square Enix relinquished their control of it, the publisher decided to go big and deliver the next Hitman game not as an episodic season (like Hitman 2016) but a full-fledged sequel. Developed by IO Interactive, Hitman 2 looks to give players even more of the varied stealth gameplay present in the original along with new mechanics and weapons for Agent 47 to unleash on his targets. The story will follow the events of its predecessor and will hopefully be more cohesive this time around. Agent 47 will embark on a mission to hunt down the mysterious Shadow Client and disassemble his militia while also uncovering the secrets about his own past.
8. Forza Horizon 4
Release Date: October 2
In the fourth Horizon title and eleventh installment in the overall Forza series, developer Playground Games is giving players the opportunity to explore a great open world set in a fictionalized representation of the United Kingdom. The open world is a synchronized shared world in which up to 72 players will be present at any given time, but will also be playable in offline mode. Players will have opportunities to buy properties across the map, and with those properties will come new items and gameplay perks. Its dynamic weather system with stay consistent across all games meaning every player will be experiencing the same season as every other Forza Horizon 4 player. The game will also feature 450 licensed cars and a route creator which enables player-created races. Playground Games continues to push the envelope each year with the Forza franchise and this year is certainly no different.
7. Fallout 76
Release Date: November 14
Serving as the Fallout franchise's first foray into the online multiplayer world, Fallout 76 will feature a gameplay expanse devoid of any NPC character interactions (except the occasional robot who will give you missions) and will instead keep the action player-only. You can either go it alone or with a group of up to three other people, the choice is yours, as you try to survive the harsh realities of the wasteland. This game expands Fallout 4's settlement building and allows you and your companions to build your own. Nuclear armaments are present in the game and will shape the world around you; players will be able to launch nuclear missiles at other settlements, which is sure to wreak havoc across the game's many servers. Fallout 76 has a map that is four times the size of Fallout 4's and takes place in West Virginia, featuring many of the state's iconic landmarks.
6. Assassin's Creed Odyssey
Release Date: October 5
This year's Assassin's Creed installment will transport the player to ancient Greece, allowing them to explore as either Alexios or Kassandra. The gameplay will be similar to last year's Assassin's Creed Origins, but this time around the role-playing mechanics will play an even bigger role than before. Along with new dialogue options, your character will be allowed to romance other NPCs and contend with a new notoriety system that will send mercenaries after you if you commit heinous acts of violence or other crimes. There will be new skills to unlock, as well as all-new weapons and armor. Teased somewhat in Origins, naval combat makes its grand return allowing players to take part in large-scale battles in the Aegean Sea set against the backdrop of the war between Athens and Sparta.
5. Shadow of the Tomb Raider
Release Date: September 14
Lara Croft's journey that started with 2013's Tomb Raider reboot will, at last, be coming to a close (for now) as Crystal Dynamics and Eidos Montreal conclude Lara's arc from frightened archeologist to full-fledged swashbuckling adventurer. The story will see Lara on an expedition to Latin America in search of a Mayan relic that is also being sought after by the paramilitary organization Trinity. After setting off a Mayan apocalypse, Lara will have to find a way to reverse her bad luck, saving not just herself, but the whole world in the process. Gameplay will be similar to its predecessors with even more weapons and tools to use as Lara traverses the largest open-areas the series has ever seen. The puzzles will be grander and more complex and Eidos Montreal promises even more and cavernous tombs for players to raid.
4. Spyro Reignited Trilogy
Release Date: September 21
Spyro is back and looking better than ever in the Spyro Reignited Trilogy. After the success of Crash Bandicoot: The Insane Trilogy, Activision made a point to remaster another classic franchise in Spyro. The game will come with Spyro the Dragon on disc, with Spyro 2: Ripto's Rage and Spyro: Year of the Dragon available as free downloads. The game has been remade from the ground up and looks absolutely gorgeous in motion, with Spyro's fire effects a particular stand-out. Tom Kenney will also be returning to voice Spyro in all three games.
3. Super Smash Bros. Ultimate
Release Date: December 7
Super Smash Bros. Ultimate looks to be shaping up to be the biggest celebration of Nintendo characters and history ever conceived. With a roster sporting over 75 playable fighters (including a slew of newcomers: Chrom, Simon Belmont, Richter Belmont, Dark Samus, Inkling, Daisy, King K. Rool, and Ridley) and 100+ stages, this collection is overflowing with content. Couple that with new multiplayer modes and options and a secret single-player mode waiting in the wings, game director Masahiro Sakurai is really putting in his all to make this Smash entry live up to its 'Ultimate' moniker. If there was ever a time to take the plunge and buy yourself a Switch, this is it.
2. Spider-Man
Release Date: September 7
With its release date right around the corner, hype for Sony and Insomniac Games' Spider-Man is at an all-time high. Numerous previews across games media have had nothing but praise for this promising title, with Spidey's web-shooting mechanic a particular stand-out. The combat looks to take the best of what Rocksteady did with Batman's combat in the Arkham games while giving Spidey some fun tools with which to string up all the baddies. Players will take hold of a younger Peter Parker as he navigates the trials and tribulations of college, internships, and his relationship with Mary Jane. Spidey will have to also contend with a robust rogues gallery that includes Mister Negative, Electro, the Rhino, Scorpion, and Vulture, among others.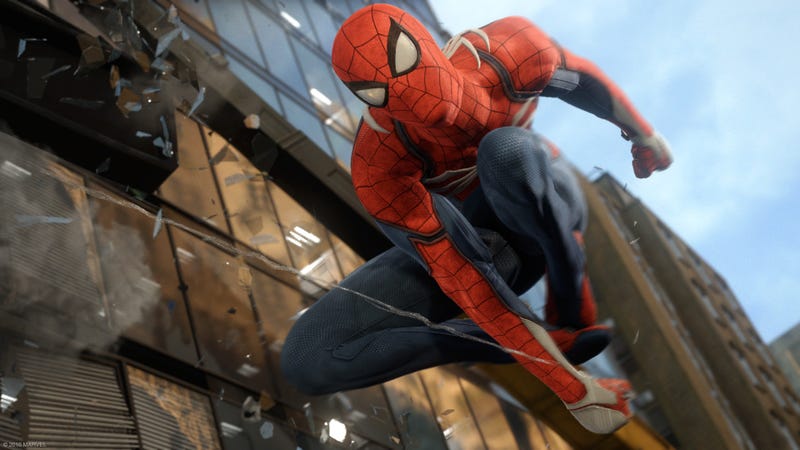 1. Red Dead Redemption 2
Release Date: October 26
This is it. After eight long years of waiting, fans of the original Red Dead Redemption will finally get their hands on the next entry in the franchise. Serving as a prequel to the first game, players will take control of protagonist Arthur Morgan, an outlaw, and member of the Van der Linde gang. Set in 1899, the game will explore the tumultuous era for outlaws as the years of America's old west are finally waning. John Marston, the protagonist of the first game, and Dutch Van der Linde, the antagonist, will be returning as well. Rockstar just recently released a video detailing the kinds of gameplay opportunities awaiting players in the old frontier; managing Arthur's settlement, hunting, choices that players can decide on to make the story their own, and the promise of bank robberies all add up to an exciting return to the wild west. Word on the game's online features are scarce at the moment, but with the game's release fast-approaching, those details are sure to surface fairly soon.
What are you looking forward to? Let us know in the comments!